Did you know that fine dining started in the late 19th century in Paris, France? It's no wonder most fine dining restaurants adopt practices from French cooking. Featuring a plethora of flavours and ingredients that are beautifully plated – fine dining is more than just taste. It's an experience of extravagant presentations and conversations over each dish. If you're looking for the best fine dining in Singapore then look no further as Glitz is bringing you just that:
1. Odette
Located in the National Gallery Singapore, Odette is a spot that serves Japanese-French cuisine. It's also the place for the best fine dining in Singapore since it opened its doors in 2015. To create exquisite flavour combinations, the food at this restaurant combines the best of both cultures' ingredients. Paired with a minimalistic interior, your night will surely be memorable.
Location:
2. Les Amis
The three-Michelin-star Les Amis was the first independent fine dining restaurant in Singapore. However, today, it serves the best fine dining in Singapore, with an outstanding history among Singaporeans. The restaurant's unwavering commitment to giving guests a memorable dining experience has won it many awards and praise from both guests and the media. When dining at Les Amis, you can be assured that the food will not disappoint.
Location:
3. Art
Art is a modern Italian restaurant and bar that serves up a unique eating experience. It's perched atop Singapore's iconic National Gallery, offering a stunning view of Marina Bay. Furthermore, this wonderful gastronomic trip is built around the delectable encounters of Executive Chef Daniele Sperindio. Indeed, if you're looking for the best fine dining in Singapore, then Art is one of them.
Location:
4. Buona Terra
Buona Terra is a one-Michelin-star eatery that serves the best fine dining in Singapore. The restaurant's monochromatic colonial mansion is part of what makes the restaurant so appealing. Therefore, dining there is a meditative experience. However, a five-course meal at Buona Terra is the best way to experience all that the restaurant has to offer.
Location:
5. Restaurant Euphoria
You may know Chef Jason Tan, who created the famed Gastro-Botanica when he was working in Corner House, a Michelin-starred restaurant. Well, at Restaurant Euphoria, he's introducing Gastro-Botanica 2.0, which serves the best fine dining in Singapore. Gastro-Botanica 2.0 is an improved version of his original cuisine. Thus, this version focuses on carefully sourced and prepared premium vegetables, meats, and seafood. After dining at Restaurant Euphoria, you might look at simple ingredients differently.
Location:
6. JAAN By Kirk Westaway
Located on the top floor of the famous Swissôtel The Stamford, JAAN By Kirk Westaway is a spot that serves the best fine dining in Singapore. Under the direction of Executive Chef Kirk Westaway, the restaurant wants to make a mark on modern British cuisine. Thus, the restaurant promises an elevated reinterpretation of British cuisine through a modern and innovative lens.
Location:
7. Braci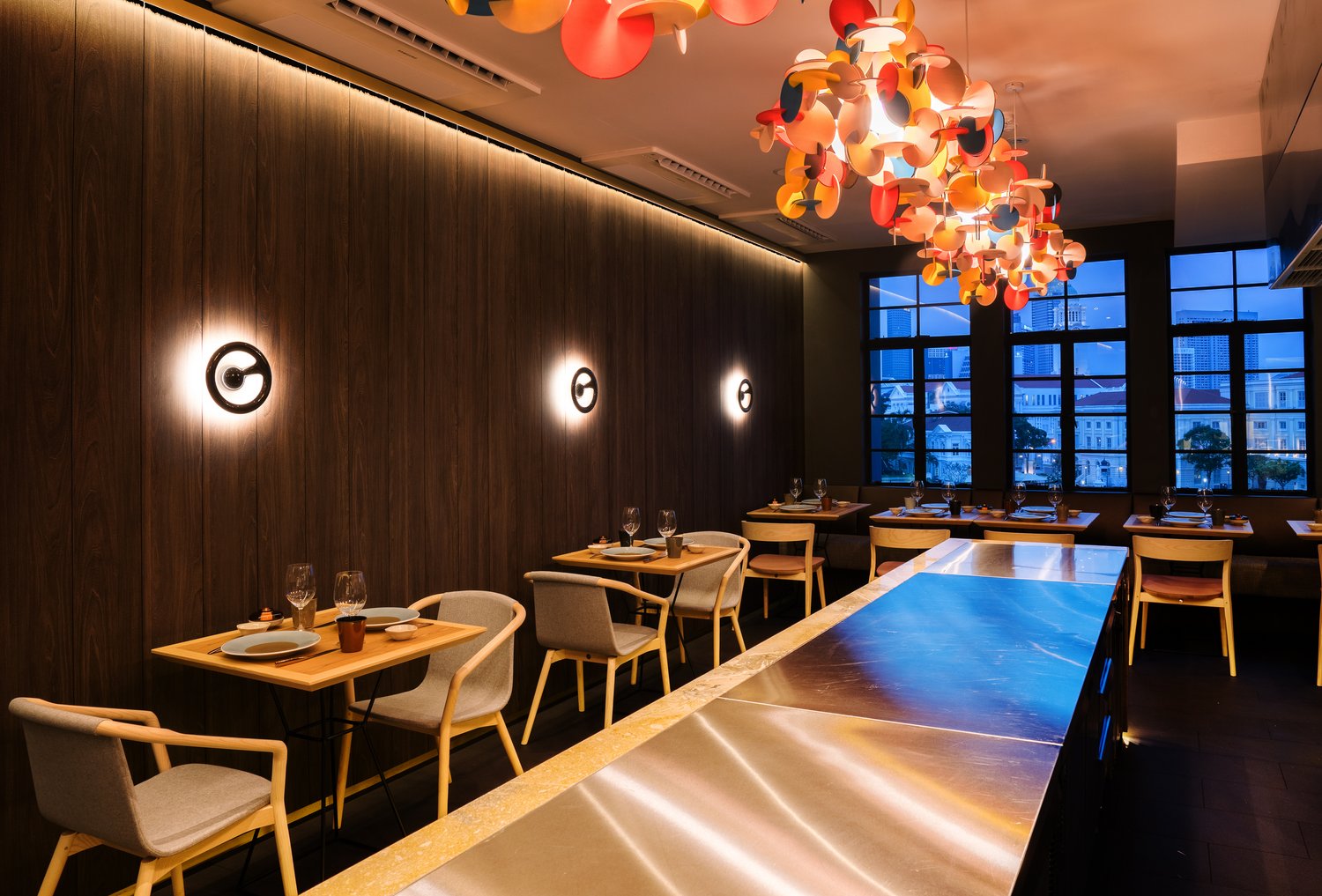 Here's another Michelin-star restaurant that serves the best fine dining in Singapore. Introducing Braci, a stylish Italian restaurant in the heart of bustling Boat Quay. Here, you'll be able to overlook the Singapore River and the city's skyline. Other than that, Braci serves contemporary Italian cuisine and traditional cocktails reimagined with the help of modern technology. Therefore, to ensure that your tastebuds are satisfied, Braci serves meals in a variety of courses.
Location:
8. Hashida
Omakase is one of the most interesting options when it comes to fine dining in Singapore. This is because with omakase experiences, you never really know what to expect. However, the outcome is always memorable and delightful. Well, if you're thinking of having some omakase then try Hashida – a spot that serves omakase for lunch and dinner too. Every ingredient is prepared at its optimum, guaranteeing the finest possible quality.
Location:
9. Dolce Vita
Housed in Mandarin Oriental, Dolce Vita serves the best fine dining in Singapore. Furthermore, they specialise in Italian cuisine and even add their own modern twist to each plate. Therefore, what you get are delectable everyday masterpieces made with the finest seasonal ingredients. One thing's for sure, we guarantee you will be coming back for more after an initial trip to Dolce Vita.
Location:
10. NAEUM Restaurant
Ever heard of Korean fine dining? Well, NAEUM Restaurant provides one of the best fine dinings in Singapore when it comes to Seoul cuisine. Combining Korean heritage with Western techniques, NAEUM is bringing flair to some of your favourite dishes. Kimchi takes a whimsical approach at NAEUM – appearing in white instead of the usual red. It's typically served as a side dish with their abalone rice and we truly won't see kimchi the same way again.
Location:
11. Akira Back
Hidden within the JW Marriott Hotel Singapore at South Beach, Akira Back is a contemporary Japanese fine dining restaurant. It is named after the latest venture of the eponymous celebrity chef. It is also one of several dining concepts run by the hotel, and one you don't want to miss. Furthermore, this fine dining restaurant in Singapore features a communal dining table, intimate spaces and a bar area. Its menu is divided into hot and cold dishes, sashimi, sushi, rolls and main dishes. With an innovative twist, it is one of the top fine dining experiences in Singapore.
Location:
12. Cut by Wolfgang Puck
Cut by Wolfgang Puck is a steak lover's paradise for fine dining in Singapore. One of its first Asian outlets is actually right here at Marina Bay Sands Singapore. This renowned steakhouse has also been rated One Michelin Star ever since 2016. Get a glimpse of New York as the interior is decorated with a dark atmosphere. Moreover, the menu features a variety of cuts of meat. It even has a pre-theatre menu which is served from 5.30pm to 7pm that features an affordable 3-course meal. With excellent service, do consider starters like the Heirloom Tomato Relish, Austrian Oxtail Bouillon and Maryland Blue Crab Cake just to name a few.
Location:
13. Willow
Willow is a gorgeous fine dining restaurant in Singapore decorated with warm earth tones and wooden accents. Chef Nicolas Tam takes centre stage with a black-tiled counter fit for 10 pax. A night of sophistication is what you'll get at Willow with Pan-Asian cuisine that will leave your mouth watering. With hints of Japanese sensibilities, expect exquisite meats on the grill, intricate snacks and the infamous donabe rich dish. Pair your meal with a nice glass of wine and it'll be the best fine dining experience you could hope for.
Location:
14. Marguerite
Be surrounded by botanicals, marble tabletops, hand-sculpted boulders and sleek furniture at Marguerite. Elegant yet casual, this fine dining restaurant in Singapore offers guests a peaceful night out to celebrate. The dining area is also right next to the kitchen islands so guests can marvel at the plating of dishes. Experience an elegant meal as you discover the flavours, temperatures and different textures of your dish.
Location: 
15. Born
Located at Tanjong Pagar, Born is a fine dining restaurant in Singapore that joins heritage with modernity. Offering easy elegance, it features a 36-seater main dining hall flushed with plenty of natural light thanks to its high glass ceilings. It even offers a view of the chefs as they prepare your meal. Drawing your eyes up are beautiful artworks by Dutch artist Peter Gentenaar. A truly ethereal experience as you dine on a nine course meal paired with an intricate story.
Location: 
Did you like this article? Then make sure to follow Glitz on Facebook and Instagram for more lifestyle-related information.