Are you an adrenaline junkie? Do roller coasters and other thrill rides excite you? Then go-karting is definitely something you should try. Here's a go-kart fun fact for you, did you know that many famous F1 racers started out go-karting first? That's right. Michael Schumacher, Ayrton Senna, Lewis Hamilton, and more started out go-karting before becoming full-fledged racers. So if you want to get your daily adrenaline rush, check out the best go-kart tracks in Singapore that you that you have to visit ASAP!
What Is Go-Karting?
Go-karting is a type of sport that involves racing on race tracks with go-karts. What are go-karts, you ask? Well, go-karts are similar to race cars. But we would say it is a more 'relaxed' version of it. It can be known as an open-wheel car or quadracycle too. Another thing that you may not know, is that go-karts come in two types. One of them is actually motorised while the other is not. To put it in simpler terms, one of them uses fuel and the other relies on gravity to keep it going forward.
Did you also know that there are different types of go-karting? You can ride a go-kart outdoors or indoors, depending on the race track you go to. There are also special go-kart race tracks that are suitable for children. Go-karting is fun but make sure to not mistake it with bumper cars. There is no bumping involved in go-karting as serious injuries may just happen – so take note!
The Best Go-Kart Tracks In Singapore
Now that you're all prepped and ready to start go-kart racing, you need to find the perfect go-kart tracks in Singapore. We understand that many of your usual go-kart tracks spots in Singapore have either closed temporarily or permanently. Therefore, we went on a hunt to find the best go-kart tracks in Singapore that are still currently open. Check out the list of places below.
1. KF1 Karting Circuit @ Kranji
KF1 Karting Circuit is probably one of the most famous go-kart tracks in Singapore. KF1 provides novice and advance levels when it comes to go-karting. Those who want to take it slow can try the novice level, which allows you to go up to 30 km/h. You also do not need a driver's license for this level. But you do need to be a minimum of 1.4 metres in height for children. If you want to go up to 50 km/h, then the advance level is suitable for you. However, do note that you will need a driver's license in order to race at this level. But for those looking to host events or to go-kart in a group can opt to book in advance. They also have a really nice VIP lounge that has air-conditioners and a spot to provide buffets!
Location:
2. KF1 @ EXPO
KF1 at EXPO is commonly known as Singapore's largest purpose-built fun-kart circuit. Just like KF1 at Kranji, this spot is also one of the more famous go-kart tracks in Singapore. The great thing about KF1 at EXPO is that even when it's raining with the exception of a lightning risk, the race continues. This allows racers to experience what it is like to race in the rain. Similar to KF1 at Kranji, there are two levels that you can choose from. For the advance level, they also accept foreign driver's licenses so you don't have to worry about your tourist friends. This particular go-kart track in Singapore also boasts 16 corners which will definitely be challenging but super fun. You can also have the chance to display your name on their list of best times to complete the entire track. Can you beat the 1-minute time?
Location:
3. Italcorse Asia
Does your child have an interest in racing? Are you thinking about starting them out young? Well, then Italcorse Asia will be one of the best go-kart tracks in Singapore for your little ones. Their go-kart tracks in Singapore focus on children racing. Not to mention, they actually take it pretty seriously. They have a kids karting team which is also the largest one in Singapore. You can opt to bring your child for a fun one-off go-kart experience or sign your child up for their training. In the training sessions, you can choose between the 'Beginner Experience' and 'Intermediate/Advanced Experience'. What's unique about these training sessions is that they teach everything from the meaning behind hand signals to setting goals in track times.
Location:
4. The Karting Arena @ Bukit Timah
Do you prefer the power that petroleum karts give when go-karting? Then this might just be one of the best go-kart tracks in Singapore for you. The track features 11 turns and spans up to 700 metres. The track also has a width of 10 metres for safety purposes. Aside from that, the tracks assure you as they also feature tecpro barriers that you see in F1 races. Other than that, they also put up tire walls for that extra protection. Another great thing about these go-kart tracks in Singapore is that you can choose to race in a single go-kart or spice it up with the double one. To make things better, the arena has multiple track cameras and even a race control room. So to anyone who would like to host professional races can look to The Karting Arena!
Location:
5. Racehub Singapore
In partnership with SCAPE, Racehub is a youth-driven go-kart place in Singpore located in Playscape. It's ideal for the younger crowd – but guests of all ages can participate, making it a great bonding activity for friends and families. Their go-karts are powered through an electronic system with adjustable seats for a comfortable ride all throughout. For aspiring drivers, Racehub also offers a separate course for kids aged 3-7 yrs of age to experience the fun. They also have an online go-karting experience in their Discord entitled "Legion of Racers".
| | |
| --- | --- |
| Price: | starts at $10.00 |
| Operating hours: | Monday – Friday, Sunday: 11am – 9pm | Saturday: 11am – 9:30pm |
| Contact details: | +65 8750 1507 |
| Social media: | Website | Facebook |
Location:
6. Skyline Luge
One of the more casual and smaller karting courses is available at Skyline Luge, Sentosa! The 3-wheeled Luge carts are fuelled powered rides that let you control your pace with each ride. Go on a ride and pass through 4 purpose-built tracks that challenges you to go through corners, tunnels and downhill slopes in the mystical forest that also lights up as soon as the sun goes down. It's another exciting and exhilarating activity great for groups of friends or families to try.
| | |
| --- | --- |
| Price: | See prices for package deals and promos here |
| Operating hours: | Daily: 11am – 9:30pm |
| Contact details: | +65 6274 0472 |
| Social media: | Website | Facebook | Instagram |
Location:
7. 99 Bends
A special mention for one of the best go-karts in Singapore goes to 99 Bends! If you prefer to do your go-karts virtually, 99 Bends will provide you more than just sitting in front of a screen. As First Purpose Built Sim-Racing Studio, it gives you an all-immersive go-karting virtual experience that has interactive segments, realistic engine and exhaust, and functional brakes and modulators just like driving a real car. Seat comfortably in their racing bucket cushions and choose your choice of modes to complete the experience.
| | |
| --- | --- |
| Price: | $40.00 per pax |
| Operating hours: | Daily: 11am – 11pm |
| Contact details: | +65 6274 0472 |
| Social media: | Website | Facebook | Instagram |
Location:
8. HyperDrive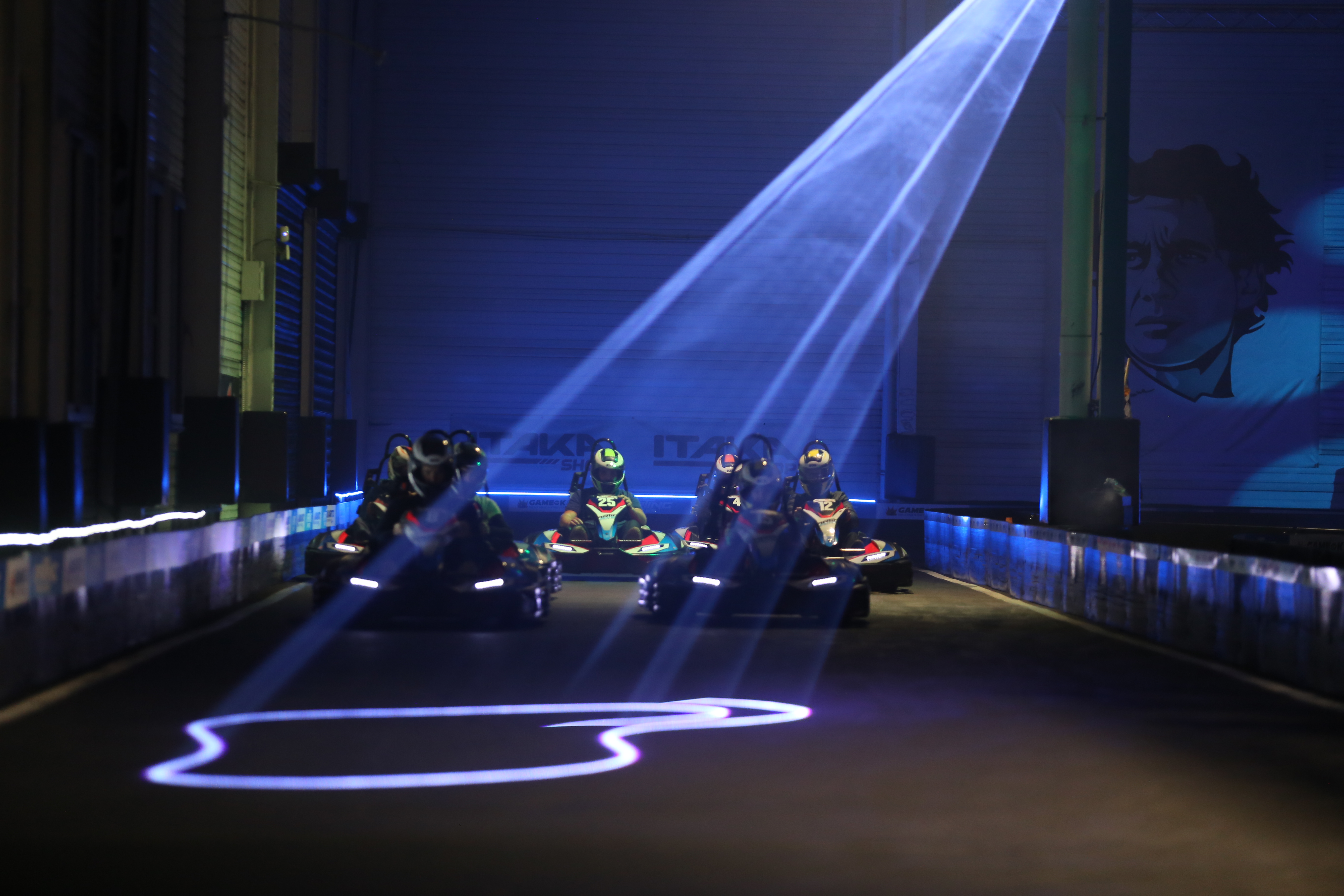 HyperDrive is an indoor 3-storey go-kart track on Sentosa. Coming to you soon, you'll be able to race around on electric go-karts that are also fueled by solar power! While most go-kart arenas are loud and noisy, HyperDrive has quieter karts so you can hear your friends cheer. They even offer a Grand Prix package that accommodates up to 12 pax. It includes driving up to 54 laps and live streaming your race on Facebook for all to see!  
| | |
| --- | --- |
| Price: | TBA |
| Operating hours: | TBA |
| Contact details: | TBA |
| Social media: | TBA |
Location:
9. Legion of Racers Sim Racing Studio
Legion of Racers Sim Racing Studio is the perfect place for you to enact your racer dreams without worrying about your driving skills! Fully air-conditioned, you won't even break a sweat zooming around on their many virtual simulators. Race on a virtual track of your choice in any country or with a scenic view! You can also try to break your own record with the solo drive or challenge your friends to a race! Besides that, the studio also allows food delivery to be delivered if you get hungry. Priced by the hour, enjoy a fun virtual racing experience however long you like!
| | |
| --- | --- |
| Price: | $15 – $25 per pax |
| Operating hours: | Tues-Sat: 1pm — 8pm | Sun: 11am — 6pm | Closed on Mondays |
| Contact details: | +65 8750 1507 |
| Social media: | Facebook | Instagram |
Location:
10. Karting Arena Jurong
If you're planning to race around a go-kart track with a large group of friends, head over to Karting Arena at Jurong! This outlet accommodates up to 15 people and their karts are similar to the Bukit Timah outlet. Travelling at 30km/h and 50km/h, Karting Arena at Jurong also has double-seater karts. Thus allowing you and your friend to sit side-by-side and ride together. It is also great for kids who might not be able to drive the kart as well! 
| | |
| --- | --- |
| Price: | $25 – $140 per pax |
| Operating hours: | Tues-Fri: 1pm — 9pm | Sat-Sun: 9am — 9pm | Closed on Mondays |
| Contact details: | contact@thekartingarena.com |
| Social media: | Facebook | Instagram  |
Location:
What Are The Requirements To G-Kart In Singapore
One of the main reasons why a lot of people enjoy go-karting is because it is easily accessible. You do not really require any qualifications or driving licenses to ride the basic go-karts. They are super easy to steer and are incredibly fun too!
But there are some requirements you might need to adhere to when you decide to go go-karting. However, fret not because we're going to list them down for you. This way, you will be prepared before going for your go-kart session.
You are only able to ride the go-kart if you can reach both of the pedals with your feet.
Please wear the hairnets provided to you under your helmets. This is to ensure cleanliness for others who will be wearing the helmets as well.
If possible, wear covered shoes to avoid your footwear from slipping out or getting stuck at the pedals of the go-kart.
Do not try to run other people off the track as it can be very dangerous for their safety and yours as well.
Avoid wearing loose clothing as they may fly off during your race, which can pose a threat to other racers.
We suggest tying up your long hair. This ensures that they don't fly all over your face and block your view when you are racing.
If it happens to rain on the day you are planning to go-kart, double-check with the race track representatives. This is because most go-kart race tracks do not allow you to race on wet tracks for safety reasons.
Covid requirement: Keep your face mask on at all times. Sanitise before and after racing and keep your distance from other racers for safety purposes.
Did you like this article? Then make sure to follow Glitz on Facebook and Instagram for more lifestyle-related information.