Having trouble figuring out what to do this weekend? Kite flying is a pastime that family and friends can enjoy doing together. In fact, even doing it yourself or watching others can be as entertaining. It does not only make a great family activity, but it is affordable too, as it only requires strings, a kite, and an open space. Below, we have listed the most popular spots in Singapore for kite flying and kite watching.
What To Consider For Kite Flying?
An open space
Choose a location that is free of impediments such as homes, trees, and electricity lines. Beaches and parks are typically ideal choices, but keep in mind that waves can cause kites to crash and be ruined. Fly only where the kite won't endanger anyone. Above all, make sure there are no electrical wires in the area, as this is quite dangerous.
Time and weather
Kites may be flown at any time of year if the wind conditions are favourable. It's a good idea to pay attention to the wind range for your kite. On days when the wind is too strong for the sort of kite you're flying, don't fly it. The kite will be harmed as a result of this.
In addition, most kites should not be flown at speeds exceeding 32km per hour. Never fly in the rain or during a thunderstorm. Clouds attract electricity, which attracts wet kite lines, putting you in danger.
The right type of kite
Although elaborate 3-D kites are attractive, novices should choose a triangle-shaped "delta" kite. They're simple to put together; simply join the line and position the pole across the back; once in the air, they're sturdier.
How To Fly A Kite
Face the wind with your back to it. Let the line out while holding your kite by the bridle point. Your kite will take off if there is enough wind. Allow the kite to fly away from you for a few seconds before pulling in on the rope as the kite points up to ascend.
Rep till your kite reaches the proper altitude to find a decent consistent breeze. Allow a friend to take the kite downwind and hold it. The kite is released by the helper on command, and the flier pulls the string hand-over-hand as the kite climbs. This high-launch technique should be practised.
No helper, no problem. Place the kite against a tree, a post, or a wall. Simply pull the kite up with enough line reeled out for altitude. There may not be enough wind if the kite sinks tail first.
There may be too much wind if it falls down head first or spins. In various breezes, different kites fly.
Best Places To Kite Flying In Singapore
1. East Coast Park
East Coast Park is a fantastic place to fly a kite. Because the park faces the sea, it is frequently windy. Any site with low impediments is ideal for kite-flying in the 11km long park, which is separated into eight regions, A through G. Area D is the most popular, with vast expanses of beach, few trees, and smooth sand. If you simply want to enjoy your time, it's ideal for kite-flyers and kite-watchers alike.
2. Marina Barrage
Kite lovers and novices alike may be seen on top of one green roof of the ever-popular Marina Barrage. It's a kite-utopia, flyers with an area the size of four football fields and strong gusts pouring in off the shore. If you don't have a kite, don't worry; there's a kite shop on the ground level where you may purchase a variety of kites. While you're there, don't forget to take some panoramic photographs of the city.
3. Bishan-Ang Mo Kio Park
This calm and picturesque park, located in the heartlands, provides a welcome relief to inhabitants of Bishan and Ang Mo Kio. There are a few large spaces inside the park, such as Activity Lawn 2 and Grand Lawn 1, that are ideal for flying kites. Kite festivals are conducted in Grand Lawn 1 throughout the year, so keep an eye out.
4. Jurong Central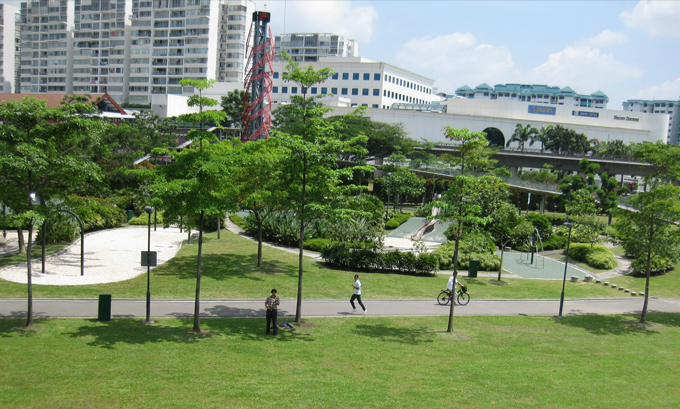 The first park in Singapore to offer a life-sized board game of Snakes and Ladders or Ludo, Jurong Central Park is a unique place. This also means that you'll have plenty of room to fly your kite while you're playing. Make your kites the pawns to be moved about the board for a unique perspective on both kite-flying and moving around on a life-size gaming board!
5. Punggol Waterway Park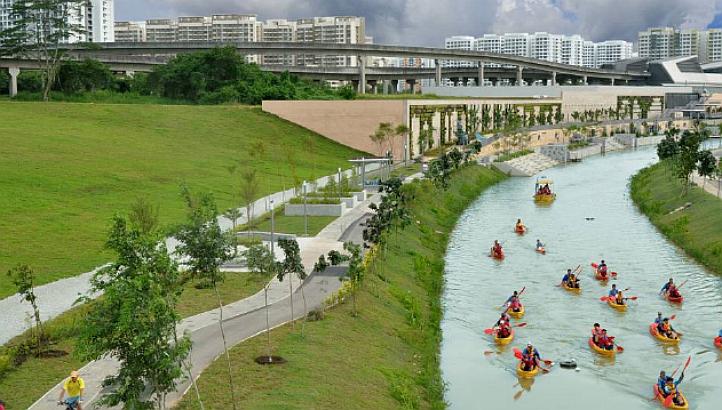 Many kite-flyers have visited Punggol Waterway Park because it is a perfect spot to fly kites. You might be able to see some professional kite-flyers practising synchronised kite flying there if you're lucky. For a great day outside, combine a day of kite-flying with some splashing at Punggol Waterway Park's water play area.
6. West Coast Park
For those who live in the West, this all-in-one park is a paradise. Cycling, picnicking, playing in the large play area and sandpit, grilling, and strolling on a boardwalk are all alternatives. The West Coast Park is suitable for both children and adults, and its Grand Lawn section is a favourite spot for kite flying. It's windy and expansive, making it ideal for all levels of kite fliers, from professionals to beginners.
7. Tampines Eco Green
Tampines Nature Green is a secluded eco-park in the heart of Tampines. This park is popular with locals since it is eco-friendly and provides a sanctuary for flora and animals as well as a location for natural enjoyment. Because bicycles and dogs are not permitted in the park, take a leisurely stroll and enjoy nature in its purest form.
8. Bedok Reservoir Park
Bedok Reservoir Park is a popular site for those residing in Bedok, Tampines, and Simei to get in their weekly exercises or just relax in nature. It boasts the right combination of land and water activities for both families and sports enthusiasts. If you're looking for a decent exercise, the alternatives are unlimited with a 4.3 kilometre dirt track that you can run or cycle on encircling a body of water where you may drag a boat, kayak, or wakeboard.
9. Hort Park
Part of the famed southern trio of natural parks, is worth a brief visit if you're interested in botany or just want to get some fresh air. Hort Park to Mount Faber Park is a popular weekend trekking path for families.
10. MacRitchie Reservoir Park
You've certainly heard your friends or family members mention MacRitchie Reservoir Park a million times if they're canoeists, regulars, or marathon runners. Take a stroll along with one of the numerous trails in the closest thing we have to a natural park. If you want a challenge, go for a run and take a treetop hike to obtain a bird's eye perspective of nature, or enjoy some water sports at the reservoir.
11. Sembawang Park
Located at the northern part of Singapore, Sembawang Park overlooks the straits of Johor. This park offers a spectacular view of the sea and a myriad of fun-filled activities like fishing, jogging and swimming. It is also equipped with a playground and barbecue pits which are located along the park. With its spacious area which boasts 15-hectare park, it is one of the go-to kite flying spots.
12. Botanic Gardens
Declared as a UNESCO World Heritage Site in 2015, Botanic Gardens houses lush tropical botanical and horticultural features. It is developed into several sections with a wide variety of attractions. Once you have flown the kite, make sure to go for a walk on its scenic trails which takes between 40 and 90 minutes. Plus, its National Orchid Garden which stretches 82 hectares boasts over 10,000 different species of plants.
For more info make sure to follow Glitz on Instagram and Facebook!