The Nike Air Force 1 is a classic shoe every sneakerhead loves. It is comfortable and matches with every outfit imaginable. Making it a perfect casual and must-have sneaker for anyone and everyone. Besides all the Air Force 1 lovers, Louis Vuitton lovers alike were thrilled with the Louis Vuitton X Nike Air Force 1 collab. Even in death, Virgil Abloh is able to garner praise and leave a mark on the sneaker community. It is safe to say that if it wasn't for Virgil Abloh, this collaboration would not have been possible at all. So, let's take a look at them and how you can get your hands on this glitz and glamorous sneaker. 
Virgil Abloh
So who is Virgil Abloh? Virgil Abloh is an American fashion designer that sadly passed away in 2021 due to cancer. Abloh was a barrier-breaking Black designer that ascended to the heights of traditional luxury. His works and contributions to the fashion industry changed what was possible in fashion. Virgil Abloh was also the artistic director of Louis Vuitton's menswear collection in 2018. In 2021 however, he was given greater creative responsibility across LVMH.
Virgil Abloh was also the founder of Off-White. Named the "Karl Lagerfeld of his generation", Abloh paved the way for creatives. As one of the few Black designers to take on a creative role at such a huge luxury house, Abloh broke boundaries. He brought streetwear to its highest levels in the luxury market. Longing for a sense of community and a desire for social progress, Virgil Abloh engaged with his followers directly and offered "trails of information" and "cheat codes" to start their own brand. Chief executive and chairman Bernard Arnault of LVMH said, "Abloh was a genius designer, a visionary, he was also a man with a beautiful soul and great wisdom".
Louis Vuitton X Nike Air Force 1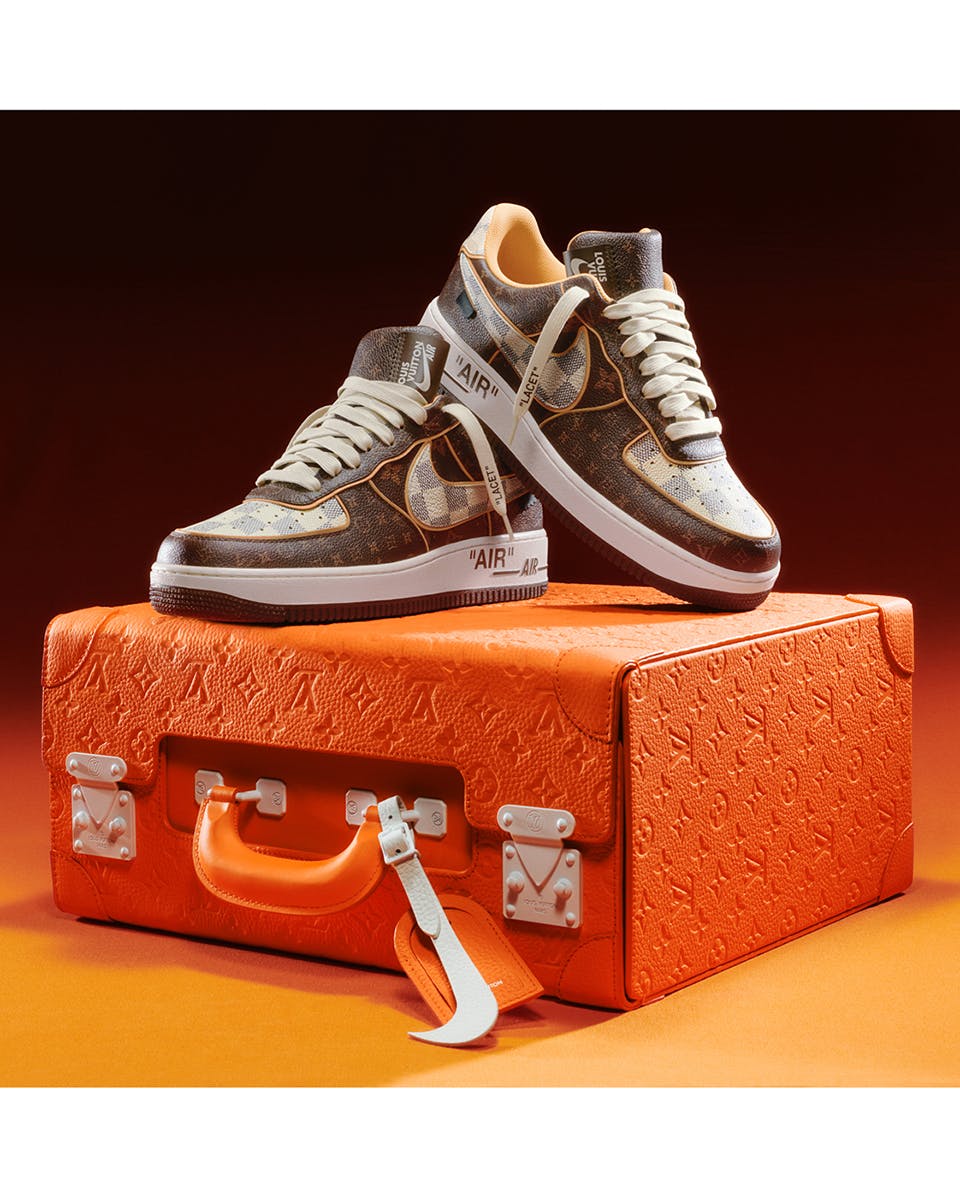 Abloh was the main mediator between the two brands. Since he successfully brought this collaboration to life, the Louis Vuitton X Nike Air Force 1 has a clear and classic silhouette. Its design and construction are most akin to Louis Vuitton's monogram bags. The colour palette for it is paired with deep, rich browns and luxurious and subtle accents that bring out a natural luxury.
The Louis Vuitton X Nike Air Force 1 redefined what was iconic in the fashion industry. It combines Nike, Louis Vuitton and Virgil Abloh, into an abundance of colourways that are both quietly luxurious and brash. To bring this killer collab to audiences, the sneaker has co-branded texts done in Abloh's signature style while references to bootleg culture can also be seen. You can also see accents of the monogrammed canvas, quotation marks and succulent leather uppers.
Louis Vuitton X Nike Air Force 1 Auction
If you are thinking about getting your hands on these rare sneakers, then you'll have to get in line. The bid for the Louis Vuitton X Nike Air Force 1 is currently at $90,000. Furthermore, each size of the sneakers is also being bid on. The sneaker debuted on Sotheby's website on January 26 with a starting bid of $2,000. Many of the sneaker sizes are being scooped up at ridiculous prices that amount up to 6 figures. These sneakers also come with a trunk as part of the set. Making it incredibly Insta-worthy too.
For the auction, only 200 pairs were made available in exclusive ranges of sizes and colourways. All shoes are sold directly by Louis Vuitton while all proceeds from the sales will go directly to The Virgil Abloh "Post-Modern" Scholarship Fund.