When anything gets popular, it quickly transforms into a prized collectable, no matter how insignificant it may be. If you've never seen a Bearbrick (stylized as Be@rbrick), it's a charming looking, unusual anthropomorphic bear figurine with a potbelly. The most intriguing, rare, and lavish Bearbrick figures in the world are one-of-a-kind sculptures that are meant to wind up in well-guarded private collections, but once they hit the market, they command exorbitant prices. With that, Glitz is dishing in on the most expensive Bearbrick figurine you can get your hands on in Singapore to complete your collection.
Today, the 'bear' is as much a fashion symbol as it is an artistic one. It's a clever design that combines the simplicity of a plastic toy with the aesthetic impressionability of modern art and dynamic luxury fashion. Bearbrick is a one-of-a-kind vinyl toy that has become one of the most coveted collectables since its introduction over 22 years ago. Despite being a basic plastic toy, it has been used by some of the world's most prestigious fashion firms and designers to exhibit their latest concepts and initiatives.
1. Bearbrick x Readymade x A Bathing Ape 1000% – $20,799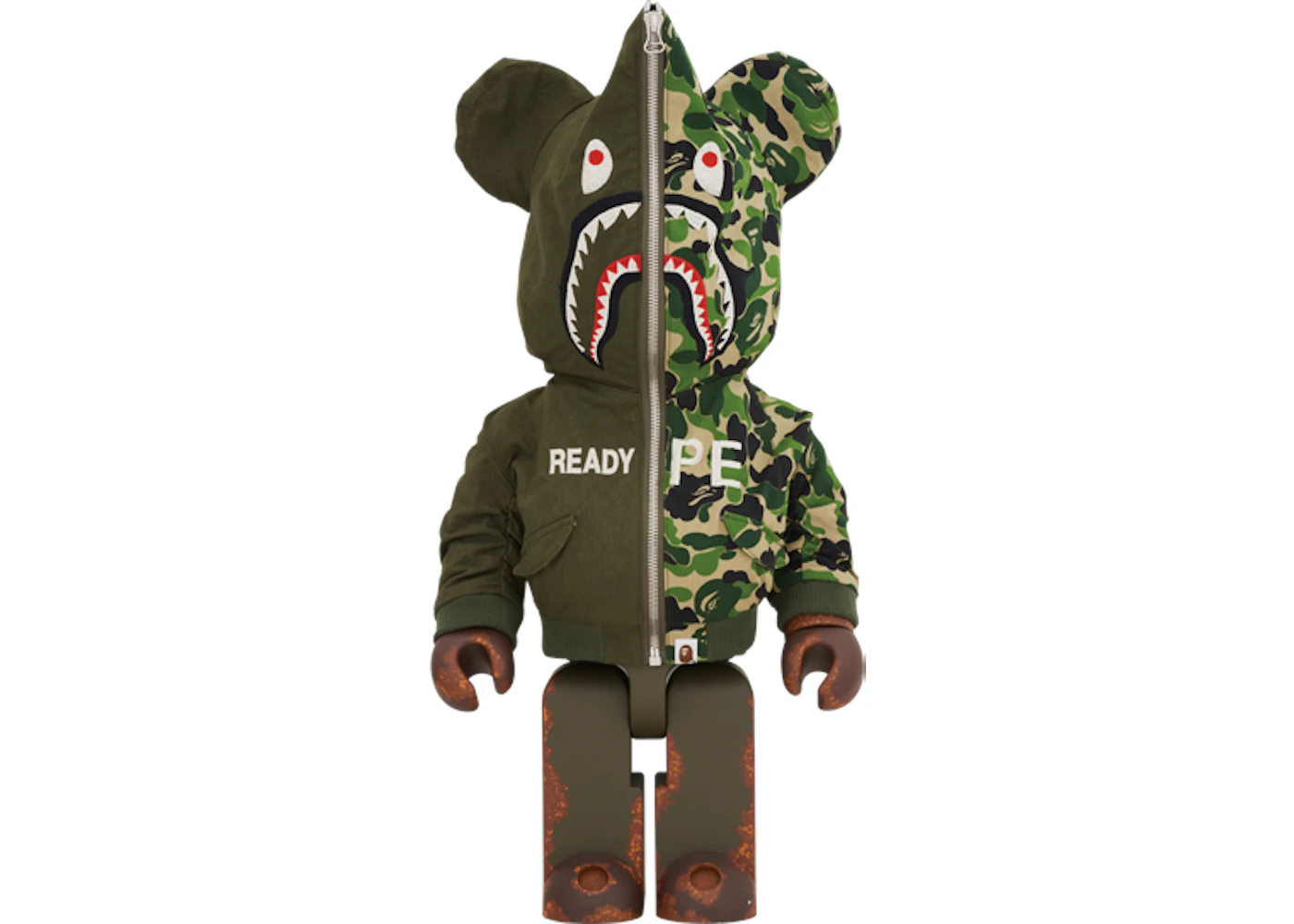 For this famous Bearbrick collaboration in 2018, Readymade teamed up with A Bathing Ape and Medicom Toy. Although several BAPE Bearbrick has been launched with the brand's famous "Shark" sweatshirts, this Readymade collaboration is unique in that an actual BAPE hoodie was created just for this figure.
2. Bearbrick Coco Chanel 1000% – $19,035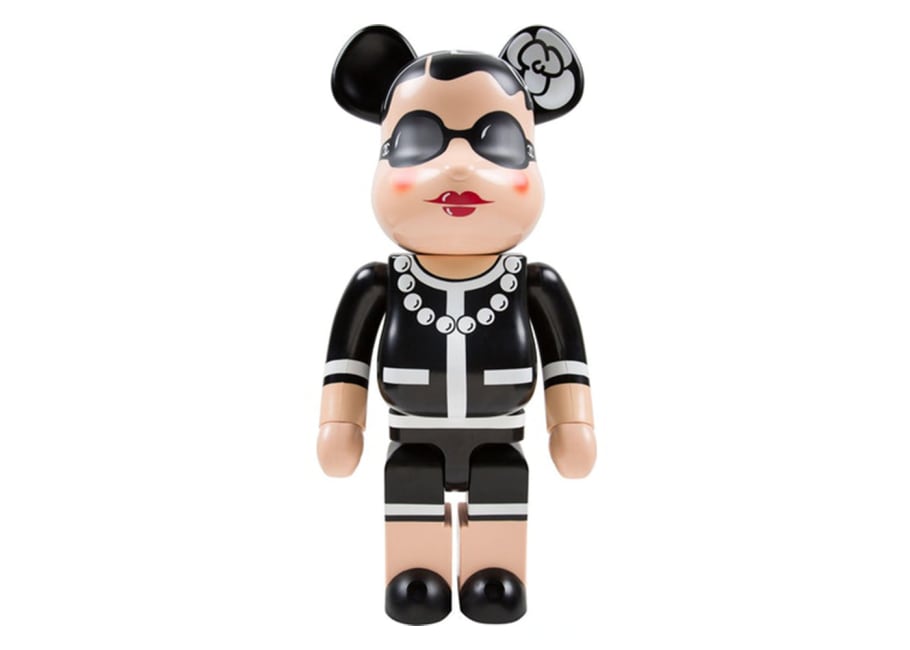 This model was created in 2006 by Karl Lagerfeld, the former creative director of Chanel. Only 1,000 Bearbrick was created, and the majority of them were displayed in Chanel stores. Only a few have ever made it to the market. One example was auctioned exclusively at a charity auction with other Bearbrick from high-end designers such as Salvatore Ferragamo, Moschino, and Hermes.
The artwork is designed to appear like Coco Chanel, the founder of Chanel, wearing a Chanel jacket and pearls. The item is difficult to come by, given its exclusivity and high-fashion connection.
3. Bearbrick Karimoku Horizon 1000% – $13,000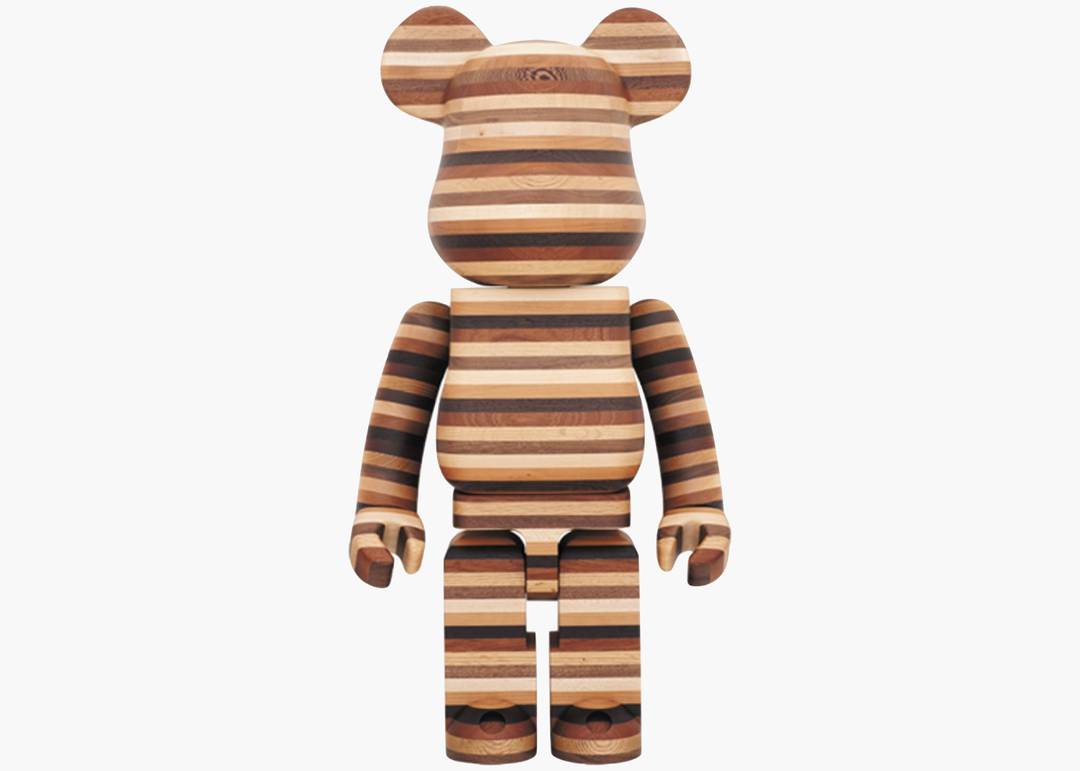 Karimoku is a well-known Japanese wood furniture manufacturer with an 80-year history. Karimoku and Medicom have repeatedly worked on the creation of handcrafted wooden toys. The first 1000% hardwood Bearbrick from Bearbrick x Karimoku is one of the most sought-after Bearbrick x Karimoku collaborations. This figure was entirely formed of walnut wood, handcrafted in Japan, and custom-made to order.
4. Bearbrick Kaws Chomper 1000% – $12,673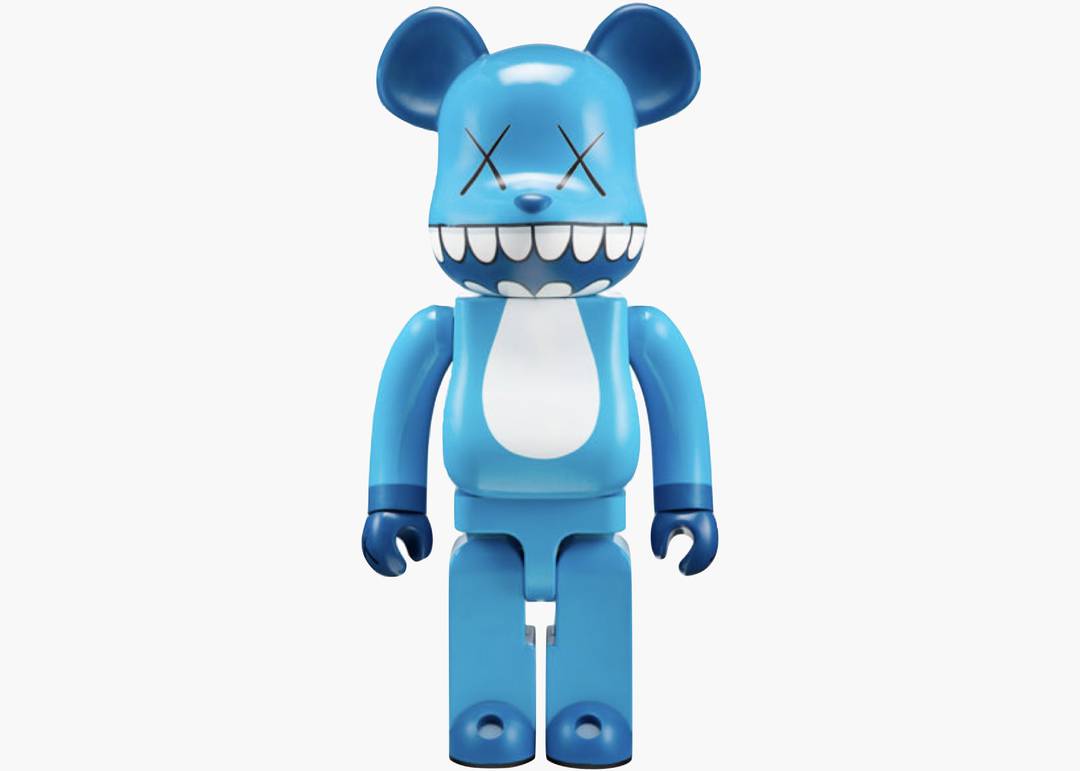 Although Kaws' art toys represent the artist's intention to make his works of art more accessible to the general public, they sell for extremely high rates, making him one of today's most sought-after artists.
5. Bearbrick SORAYAMA x Daniel Arsham 1000% – $12,000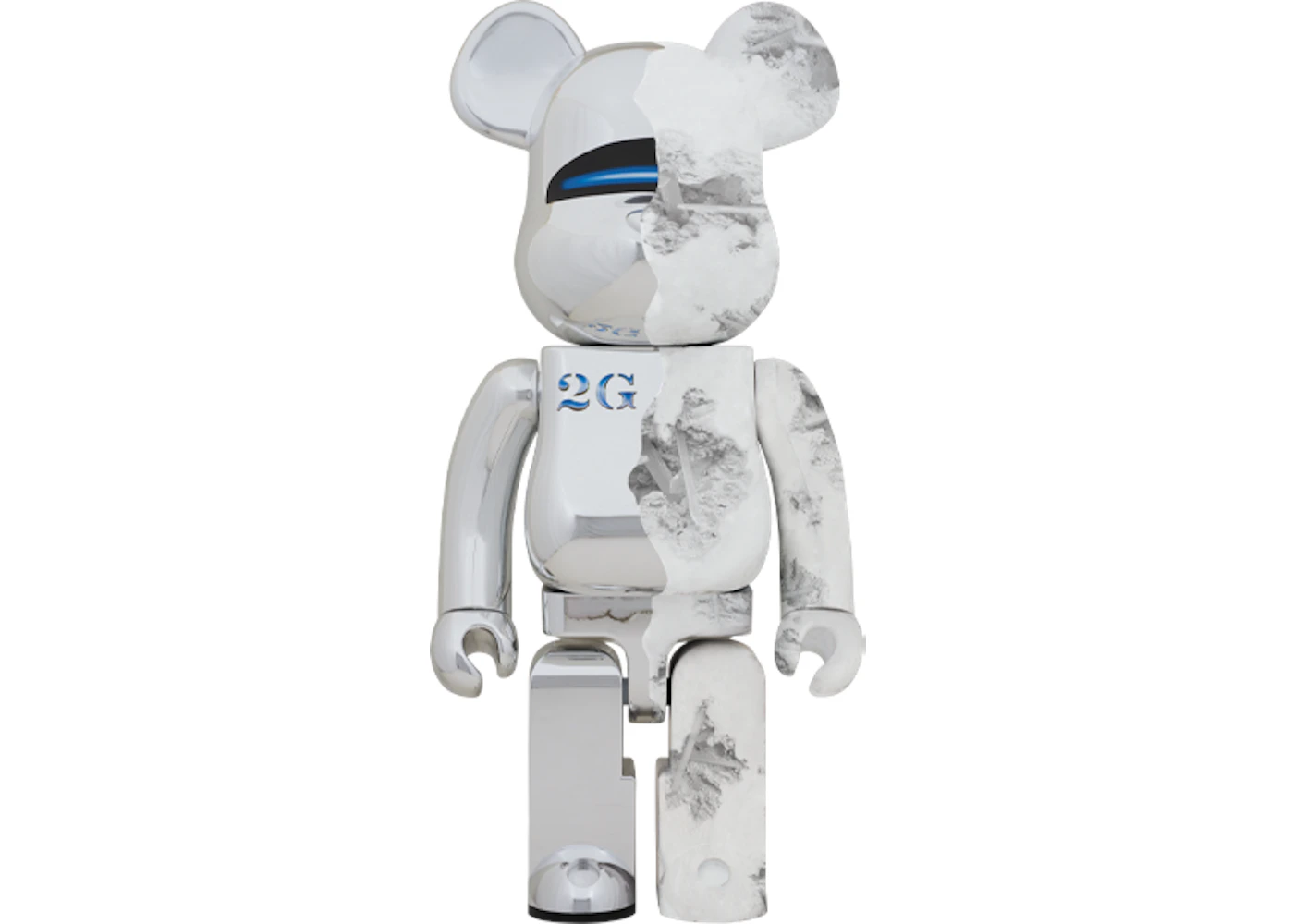 Daniel Arsham and Hajime Sorayama are two painters that have worked with Kim Jones at Dior and have gone over into the fashion industry. Arsham's erosion aesthetics were practically blended with Sorayama's surreal robot images in this Bearbrick collaboration. This sculpture was created to celebrate the inauguration of the NAZUKA 2G gallery in Tokyo, which opened with a display exhibiting Arsham and Sorayama's joint artworks.
6. Bearbrick x BAPE x Levi's 1000% – $11,432
BAPE and Levi's have collaborated with MEDICOM TOY to create a collection of BE@RBRICKS sporting the classic Split Trucker Jacket to commemorate their current cooperation. The doll comes with its own collaboration jacket, with the trademark BAPE Shark Head half-zip logo in denim blue and the feet sporting the collection's denim pattern — gold stitching and all.
7. Bearbrick Readymade Mickey Mouse 1000% – $9,002
Readymade is a Japanese firm that specialises in upcycling military surplus clothing. One of the most popular figures to become a Bearbrick is Mickey Mouse. Although the Mickey Mouse Bearbricks created in partnership with BAPE and Fragment sell well, the READYMADE Mickey Mouse Bearbrick stands out with the Ghillie suit on.
8. Karimoku Bearbrick Layered Wood 1000% – $9,000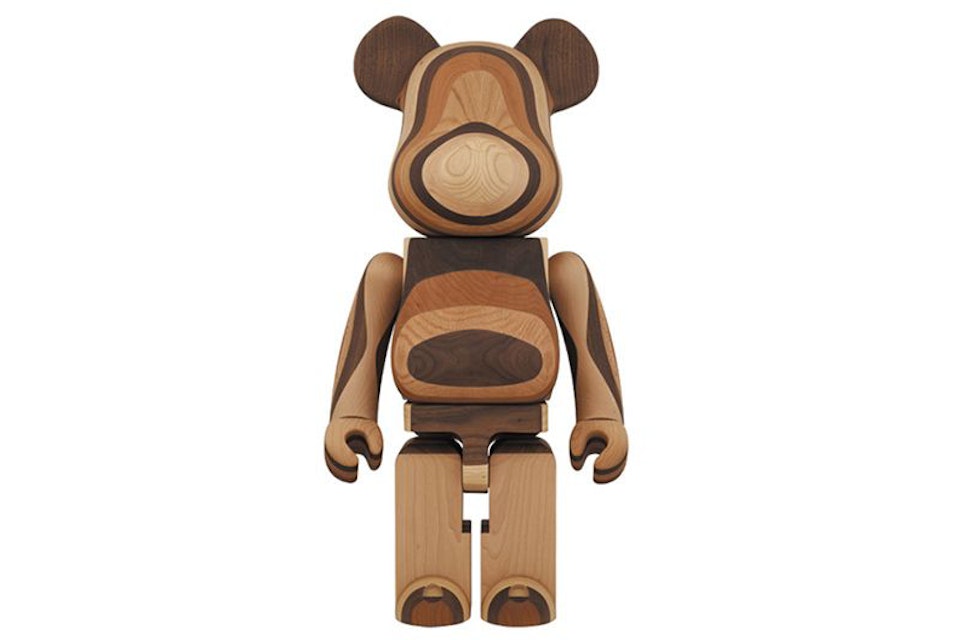 Karimoku, a Japanese furniture company, has teamed up with Medicom Toy to create a unique 1000% multilayer wood Bearbrick. Each Bearbrick is manufactured to order and is individually handmade with three colours of polished wood. The exclusive Japanese-made cooperation between Karimoku and Medicom Toy serves as another must-have for collectors worldwide, adding another layer to the huge Bearbrick 1000% family.