Borders are finally opened and most mask mandates have been lifted as well! It is finally time to step out of our own countries and explore the world. For those in Singapore eager to travel, there are still rules and regulations we need to follow. For example, we would still need to take a COVID-19 PCR Test before departing to some countries. Those that are fully vaccinated will be thankful that several countries do not require travellers to take a pre-departure COVID-19 test. So if you happen to be travelling to a country that still requires a test, here are some of the cheapest pre-departure Covid-19 PCR test kits you can book!
Some airport transfer services might also require travellers to do a pre-departure Covid-19 PCR test as well. Whether you are trying to get to the airport or a second destination, here are some reliable airport transfer services that might be of use. Using airport transfer services is also a great way to get around Changi Airport so let Glitz recommend a few!
When To Take A Pre-Departure Covid-19 PCR Test?
It is generally recommended that travellers take a pre-departure Covid-19 PCR test within 24 to 72 hours of the scheduled flight. It is also important to always check the rules of each country you are visiting before jumping to any conclusions!
Cheap Pre-Departure Covid-19 PCR Test Kits
1. Intemedical Clinic
Intemedical Clinic offers both pre-departure Covid-19 PCR and ART test kits. Just visit one of their 2 branches and take your pick! The PCR test kits start at $80, which is considered the cheapest among others. The ART test, on the other hand, only costs around $18.
Price: $18.00 for ART test | $80 for PCR test
2. Lion Health Clinic
Across Singapore, there are over 650 clinics that are approved to provide a pre-departure Covid-19 PCR test. Lion Health Clinic is one of them and their pricing for one pcr test kit costs around $81. Just a dollar difference from Intemedical Clinic, these are definitely 2 clinics you want to visit before travelling overseas!
3. Northeast Medical
Next, we have Northeast Medical which is selling ART test kits for just $21.40! What's more is that the price includes GST and if you get a negative result, they won't charge a consultation fee either! Aside from that, the clinic will also provide travellers with a results certificate along with personal details that are suitable for travelling.
Price: $21.40
4. Affinity Medical
Affinity Medical is also one clinic where you can get a cheap ART test before your flight. At just $25, you can easily get your hands on a pre-departure ART test.
Price: $25.00
5. Belief Family Clinic
Belief Family Clinic is also a great clinic to get a pre-departure ART test kit. Similar to Affinity Medical, their prices for these kits start at just $25.
Price: $25.00
Airport Transfer Services In Singapore
1. SGMaxi Cab
Reliable, trustworthy and well-established, SGMaxi Cab has served more than 100 important clients. They offer airport transfer services at an affordable rate and make booking convenient as well. SGMaxi Cab also runs promotions rather frequently so you can enjoy discounts on your ride! For those looking for a luxurious ride, they also offer Rolls Royce Limousine services.
Price: Starts from $60.00
Contact: +65 3138 8143 | booking@sgmaxi.cab
Book Now: https://sgmaxi.cab/online-booking-transport-services/
2. Kler Transport
Kler Transport is one of the most reputable transport companies in Singapore. Easy to book and affordable, it is no wonder they are the top choice for airport transfer services. Available 24/7 they offer comfortable and professional services along with English-speaking chauffeurs. What's more, is that they also cater to any last-minute requests!
Price: Start from $50.00
Contact: +65 9389 2844 | info@klertransport.com
Book Now: https://klertransport.com/booking/booking-form
3. Maxi-Cab
With a selection of minibuses, sedans and buses, travel across Singapore and Malaysia at ease! Maxi-Cab is chauffeured by experienced and polite drivers that are able to guarantee your comfort and safety onboard. Available 24/7 it is no hassle at all to book transportation with their 15-minute booking response. Whether you are at the airport or an attraction in town, you can easily book a Maxi-Cab to go!
Price: Starts from $60.00
Contact: +65 3158 7578 | https://www.maxi-cab.com/book-online-now
4. Singapore Maxicabs
Singapore Maxicabs has expanded over the years to better serve thousands of customers. They cater to VIP customers, airport transfers, city tours, weddings and events. Singapore Maxicabs will definitely bring you to and from any location! Aside from that, there are also no hidden costs, which many customers appreciate. They are also flexible in payment methods as you can either use cards, cash or even PayPal. Sit back and relax in their high quality and comfortable vehicles.
Price: Starts from $55.00
Contact: +65 8800 6006 | booking@singaporemaxicabs.com.sg
Online Booking: https://www.singaporemaxicabs.com.sg/online-booking.php
5. Porter Express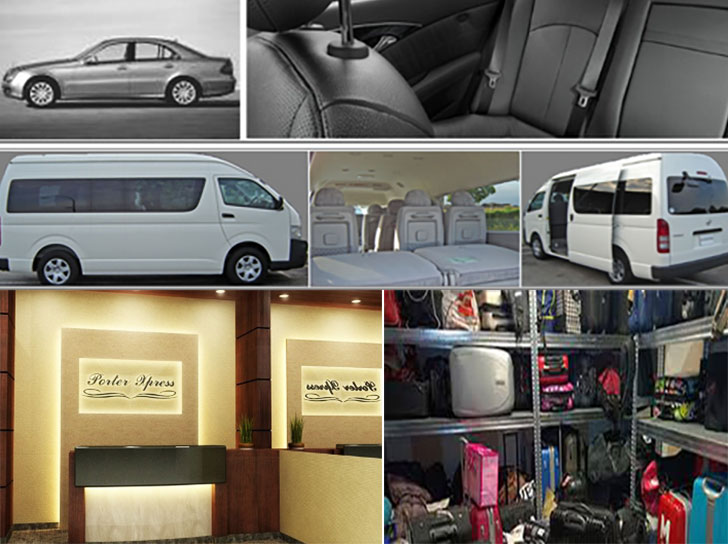 Established back in 2009, Porter Express has garnered over 10 years of experience in the transportation industry. Offering a 24/7 booking system, you no longer have to worry about being stranded at the airport past midnight! What's more, is that they also offer quite a variety of services including group and private transport. Taking you either from and to the airport, city tour, hotel and cruise terminal, and even Malaysia transport. They are also a top choice for many organisations, hotels and tour operators. Furthermore, they offer delivery services and luggage storage. So, you can enjoy the city worry-free!
Price: Starts from $45.00
Contact: +65 94511278