To be honest, I hope there would be more gifts that considered *universal* and are more acceptable to the male counterparts. I'm honestly so over ties, wallets and shirts. Like, hello? Can we normalize giving them some kitchenware? It's the 21st century. And even if you don't have that special someone in your life, tell us; is finding the right gift for your dad or brother could be any different? Yeah, exactly. Anyhow, luckily few brands are debuting some of the best items just in time for this month—and hint, some of them are within the range of the latest fragrances collection. And good-smelling men are truly my (and every girl's weaknesses). Just saying, *wink*
Also, read on: Asian Gentleman Skincare: 5 Easy Steps To Follow, For You Clueless Fellas
1. Philips UVC Mini Box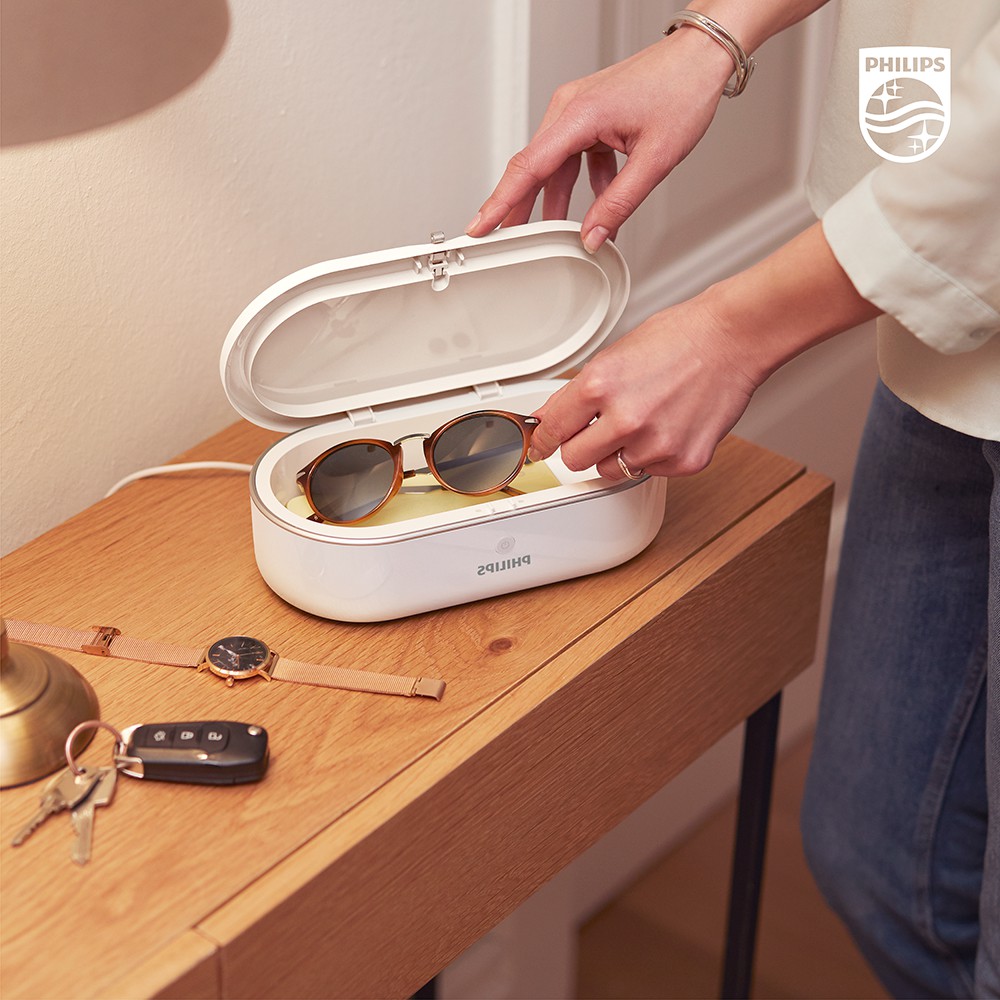 The Corona is far from over—and we need to keep things cleansed and swabbed as ever. Gift your beau (and yourself) this Philips UV-C mini box. It offers the easiest and fastest way to disinfect his everyday items like handphones, headphones, shades, watches and others on the go. As you know, Signify has a proven track record of developing innovative UV-C products and applications. It is proven as an effective way to neutralize a virus through UV-C radiation. In laboratory testing, Signify's UV-C light sources reduced SARS-CoV-2 virus infectivity on a surface to below detectable levels as fast as 9 seconds.
Where to buy: Philips
2. Lab Series' Invest In Yourself Men Collection
After 30 years as a pioneer in men's skincare, industry-leading LAB SERIES has become synonymous with science-backed, high-performance skincare designed specifically for men's skin physiology. And now, the iconic brand is evolving. To mark the evolution of LAB SERIES, a new campaign celebrates extraordinary moments of invention in the lives of five different men who each embody the new skincare product series of the brand.
Daily Rescue
Whether in the gym or off duty, most men demand performance through hydration, energy and recovery. Daily Rescue is formulated for all skin types to boost hydration and energize skin ($45 – $105).
All-In-One
Always on the go, this second range was created for those hunk that prefer unfussy performances in his daily skincare routine. All-In-One solutions for fresh, more comfortable feeling skin. ($45-$95)
Oil Control Collection
Just like their female counterparts, most men can't get away from facing an oily skin concern. Oil Control Collection is formulated for oily, breakout-prone skin to keep shine at bay. ($45 – $63)
Anti-Age Max LS
Of course, it is not easy for men to be labelled as ''age like a fine wine''. But why not help your boo by tackling those wrinkles, fine lines and uneven skin tones away with this Anti-Age Max LS. Packed with youth renewing technology and peptide complex for younger-looking skin! ($58-$143)
Where to buy: Lab Series is available at ION Orchard, Lab Series Official Flagship Store on Lazada, Sephora ION, Sephora.SG, Tangs @ Tangs Plaza, Tangs Vivo, Metro Paragon, Metro Causeway Point, One Assembly, BHG Bugis, Beautique by ishopchangi and at Jewel.
3. Bvlgari Man Terrae Essence
Bvlgari Man is no stranger to a magnificent tale of compelling and masculine fragrances harnessing the endless power of the natural elements. Now, joining the monumental collection, the Bvlgari Man Terrae Essence pays tribute to the power of the earth, its authentic richness and diverse fertility, through a warm and effortlessly elegant signature. As a scent, it captures the fertility of the earth and generosity of nature, embodying its life-giving power in a woody vetiver scent shaped of sleek, modern elegance in a genuine ritual reminiscent of cultivated land.
Where to buy: Sephora
4. Burberry Hero Fragrance
Another scent in line. Burberry Hero represents the duality between strength and sensibility. A scent that would represent the timelessness of BURBERRY and at the same time the sense of modernity. A blend of universality and uniqueness. The scent expresses the animality that is inside each man and at the same time a true humanity. The bottle is strong and modern, like the fragrance it carries. Its angular shape is an abstract reinterpretation of a horse's hoof, engraved with the curved Burberry logo.
Where to buy: Sephora
5. WMF Kitchenware Set
WMF Baric Sommelier 5-piece Set
If your boo is well-known for his specialty in hosting Holiday dinner parties, then there is no better gift than this Baric Sommelier 5-piece Set by WMF. Timeless by design, the set consists of a corkscrew, foil cutter, bottle opener, pouring stopper and bottle stopper. The foil cutter and corkscrew aren't just easy to get a firm grip on, they also help you open a wine bottle clean like a professional – all to preserve the quality of the wine.
Where to buy: Philips
WMF KITCHENminis® Smoothies-to-go
Your boyfriend is a fitness slash smoothie junkie? No problem. This compact mini blender fits right at home, and its four-blade stainless steel cutter crushes everything, including ice. Safety features? Check! It's highly stable thanks to a non-slip design and blending is only possible when the mixing container is in place. Comes with a Tritan drinks container and leak proof screw-on drinking lid.
WMF Impulse Travel Mug
Available in stainless steel, vintage copper and matt black, the Impulse Travel Mug from WMF is a trendy, sustainable solution for enjoying coffee on the go. The double-wall insulation keeps drinks warm for up to 6 hours, while cold drinks keep cool for up to 12 hours. The 300ml leak-proof cup can be stowed in a handbag or rucksack too.
All available online at the WMF Official Store on Lazada and Shopee, and in-stores at Takashimaya, Metro, BHG, TANGS, OG and Isetan.
For more lifestyle related infos make sure to follow us on Instagram and Facebook!